WRITING
A MEMORY MOSAIC PUBLICATION DATE: Early summer 2023
Preorder your copy of A Memory Mosaic.  
A MEMORY MOSAIC is a memoir about the author's adventure 40 years ago trekking in the foothills of the Himalayas. But it becomes more. It relates the journey he took in recalling the trek and piecing together memories of many moments in his life before and after. Then the book steps farther, inviting you, the reader, into the world of memoir, seeking to inspire and guide you, if you are writing a memoir, aspiring to do so, or just inclined to think about the many stories in your life.
To preview the first 30 pages of A Memory Mosaic, click on the memoir.
*  *  *  *  *  *  *  *  *  *  *  *  *  *  *  *
MONHEGAN WINDOWS is a novel about loss, transition, healing and the magic of art and storytelling, presented in two interlacing stories. It's set on an island off the coast of Maine that is devoted to lobster fishing from fall through spring and transforms every summer into an artists colony and vacation retreat.
To preview the first 50 pages of Monhegan Windows, click on the novel.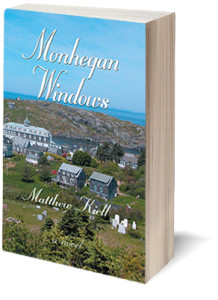 To go to the Facebook page devoted to Monhegan Windows, CLICK HERE. 
To see the 25 photos that appear (in black & white) in the novel in their original color versions, CLICK HERE. 

*  *  *  *  *  *  *  *  *  *  *  *  *  *  *  *
INCOGNITO is a kaleidoscopic, quixotic story — perhaps one tale, perhaps 1,001, mixing fact and fiction told from a dozen voices, a Russian doll structure of stories within stories nestled within stories,adorned with signs and puzzles, mazes and chess, immersed in Dante and Shakespeare, classical mythology and Eastern thought, and echoing Pynchon, Barth, Borges, Paul Auster, and David Foster Wallace — that searches for answers and makes you wonder, "Are there only questions?"
To preview the first third of Incognito (175 pages . . . one-third of the entire book), click on the novel.